In honor of the stock show and all the folks who helped skiing get started in Colorado by offering their hills for runs and their tractors and trucks to power tows, here's a good story found in Lost Ski Areas of Colorado's Central and Southern Mountains.
Colorado's ranchers, farmers, and tradesmen have always been very mechanical and ingenious. They had to be. For example, this vehicle was equipped with skis to help CDOT employees take care of the roads and skiers on the roads in early days. But did you ever hear of someone putting skis on horses so their owners could go places in deep snow?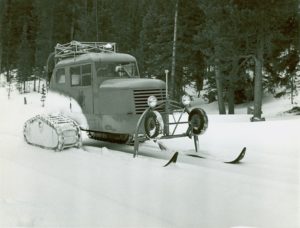 Well, here's just one such story, which was published in 1884 in the Rocky Mountain Sun.
A freighter named Brockman recently brought his horses from Summitville to Baker's station on snow shoes. The shoes were made of wood, two inches thick, eight inches wide and eighteen inches long, and were fastened to the horses feet by means of wires and straps. The shoes were fastened on, and after a few days of practice in Summitville, the horses learned the modus operandi of the scheme, and on Monday Mr. Brockman rode one horse out over from fifty to one hundred feet of snow, while the second horse pulled a sled loaded with provisions over the same course.
You're not sure whether this is real or not? Neither are the authors, who found the story while looking through old newspapers online.
Thanks to Colorado's ranchers and tradesmen for their contributions to Colorado ski culture!