Cacheologist  Jim Wulff, of Evergreen, came with his wife to Where the Books Go where the authors appeared for a local author event on Saturday, December 3, 2016. It was great to meet them.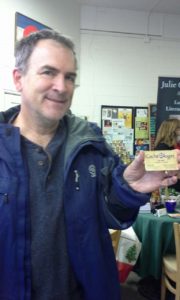 We didn't know that Jim has been placing geocaches at the lost ski hills and areas of Colorado, and were happy to learn about his efforts.
According to Jim's blog (Cacheology: Caching With Cachet) he has been making a variety of hides since March 2008.
Maybe you'd enjoy geocaching in regard to the lost ski areas of Colorado? Check out Jim's blog and contact him through it.